Certa
Name
Certa
Characteristics
Birthday
February 29
Gender
Male
Eyes
blue (right), grey (left)
Hair
Blue
Unusual Features
Has different colored eyes
Professional Status
Occupation
Yeohadan Captain
Personal Status
Status
Alive
First Appearance
Webtoon Debut
Chapter 2
Certa is the lord of the castle that imprisoned Melly.
Background
After Melly was imprisoned, Certa went to her cell and offered to bring back her powers. Once the two of them talked, they became friends and fell in love with each other. Certa vowed to protect Melly. He even told the Creator that he will be responsible for Melly's action since no Magic can be done without his permission inside the castle. But because of an unexpected twist of fate, Melly changed the time and made March 1 into February 29.
The consequence of Melly's magic was Certa's time being stopped.
Current Identity
It was confirmed in Season 2 that the Yeohadan Captain was Certa. It seems that he does not remember Melly or any previous events regarding her. He has the mana ability "Nine", which is the same as Hiasen's.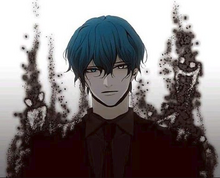 Personality
He seems very distant and intimidating on the outside, but we see his soft, kinder personality when he becomes Hiasen's friend and mentor later on during the La Luna Arc.
Season 2
Relationships
Trivia
His ability is Nine.
It's hinted by Hellfire that Certa had something to do with Hysen being born with the same inate mana as his because two parent with the same inate mana will have a child with the same meaning it's hereitary.
References}}